About Us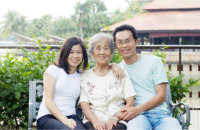 Thank you for visiting TMJ Physical Therapy. We are based in Fremont, California. We are aiming to be at the forefront of Physical Therapy providers in the state. We strive to get there by providing world class services delivered with attention and steadfast dedication to each and every client that we have.
We understand that no injuries or case is alike for each person that is why we personalize each service in order to tailor fit the needs of our clients. Our interventions are aimed to improve, enhance, or regain the client's ability to its former use as much as possible.
All of our staff especially our skilled therapists have had their licenses checked and validated. Each one has been subjected to criminal and background checks as well. Our services are available and equally accessible to anyone who might need it without regard to age, gender, race, national origin, religion or creed.
Experience healing through movement by TMJ Physical Therapy. Please set a schedule to meet with us.